Happy Fall! I'm loving this time of year and while the weather is not as chilly as I'd like it yet here in the SF Bay Area it's always autumn in my heart. We have had a few cozy fires (I like to use Java Logs for a cozy ambiance and not a ton of heat) and the mornings have been a nice crips cool.
Speaking of the fireplace and the mantle…here we go. I have been dreaming about a beautiful floral mantle display like this for a few years now. Last Christmas I added a lot of grapevine and twinkle lights and butterflies on the mantle with this idea in mind but I wanted to push it more. I love faux butterflies and twinkle lights and bringing nature inside the house. And I love decor that can transition slowly from one season or holiday to the next.
I had two goals with this project:
Shop my house (I only bought the chicken wire for this one*).
Build something that will move from Halloween to Thanksgiving (I can easily remove the sparkly spiders and maybe add a few more "fall leaves" to take it from those two holidays).
So, that's what I did. And it turned out great. It was a huge mess and took a lot of time (several hours and off and on for the better part of a day) but I love the way it turned out and may even keep it up with a few tweaks for Christmas (we will see). This project could be done as a centerpiece, on a piano, on stairs, on a wall or in an entry, over a door frame…the possibilities are endless!
For this floral project I used the following supplies:
SUPPLIES:
-chicken wire/floral netting* (SEE BELOW for more details on this…also don't forget small nails or command hooks to secure the netting to the mantle from the back)
-floral wire (to secure a few wonky items to the overall arrangement and to secure whole thing to nails)
-wire cutters (to clip an faux florals apart)
-faux fall greenery and leaves and hanging greenery
-dried florals (random ones that I've had for a few years)
-dried pampas grass (I had some from nature and some I purchased on Amazon a few years ago)
-dried eucalyptus (whenever I buy it fresh from Trader Joe's I end up drying it and using it around my house for display)
-dried yellow yarrow (from our yard)
-pheasant feathers
-sparkly spiders
-faux butterflies
-twinkly lights (I like to use the battery operated ones that have timers)
PROCESS:
I've attempted to document how I did it through photos and time laps videos.
SECURE the chicken wire to your mantle. Our mantle is rustic and wood so I just put nails wherever I felt like it. If you have limits on that I'm sure some command hooks could work as well- or get creative on hiding nails.
ANCHOR the chicken wire really well with the basic shape you'd like for the floral arrangement (I used nails and floral wire as needed). I wanted an asymmetrical look instead of a tidy, centered style.
START setting the largest florals you have in the spots and move as needed.
STUFF, stuff, stuff the different pieces as you go. I wanted a color pallet of eucalyptus green, beige, soft yellow and few pops of rust, brown and black. It's hard to explain how to arrange it and keep it balanced but I just added and stepped back and tweaked and added some more and kept going until I got the look I liked.
EDIT the overall look and if something isn't working take it out. I found the little limey dried hydrangeas I had just weren't staying and ultimately the color wasn't working with my preferred color pallet. So you will see them in some photos and then they are gone. Edit as you go and don't be afraid to just keep moving things to get it right.
FILL any holes and make sure you can't see the chicken wire on the bottom (and that it's not too close to the fire if doing on a mantle).
ADD twinkle lights & a few special seasonal elements (if you prefer) like the spiders & butterflies.
ENJOY!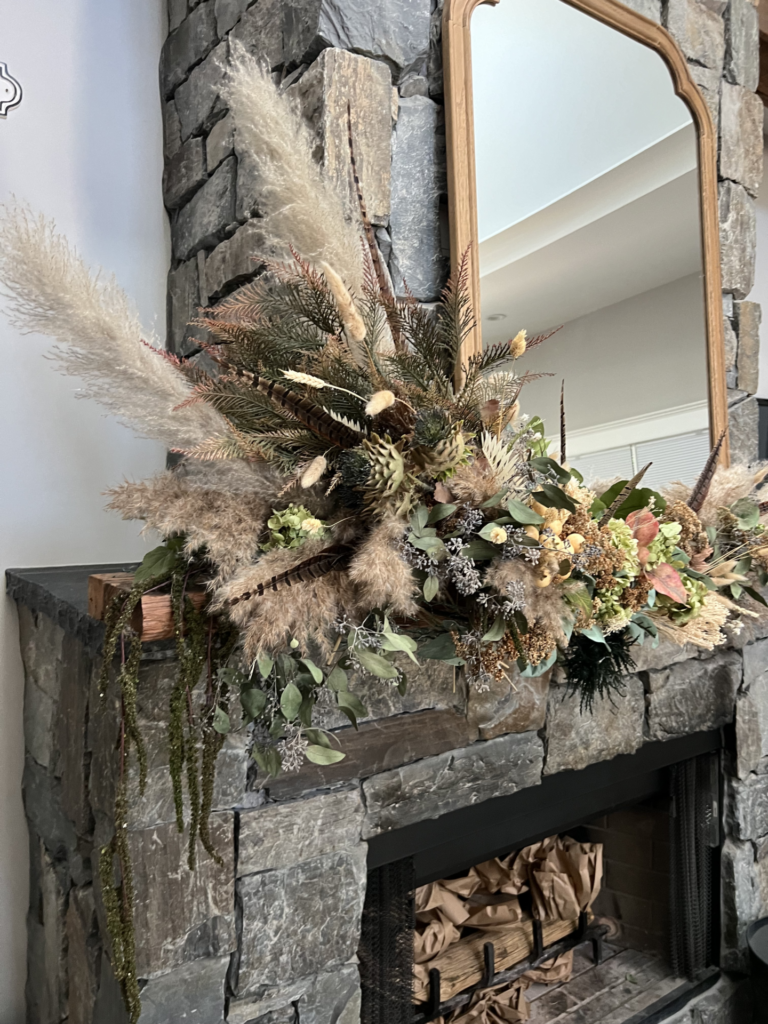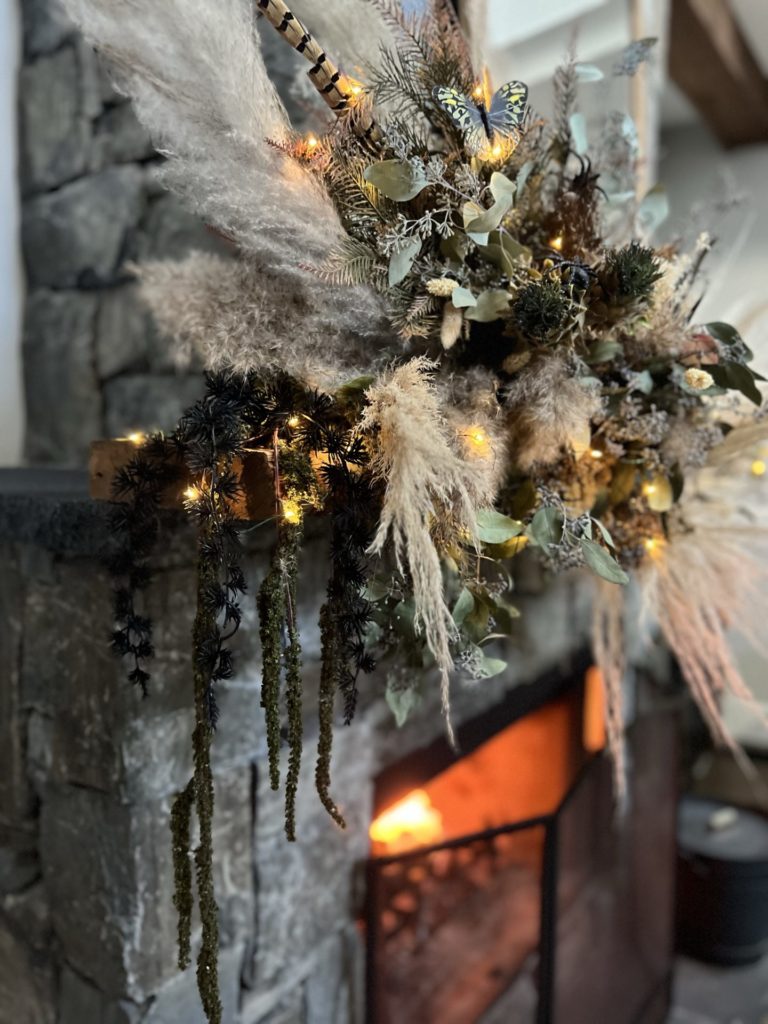 What is the "Chicken Wire" or floral netting you ask? Well it's an easy wire framework to set up for all types of florals- not just rounding up chickens. I used this 12×48 inch section from Joann's that I got in the floral section. See this photo and while I couldn't find a link…you can find something similar on amazon HERE. Use wire cutters to change the size – but be careful as this can be a sharp process.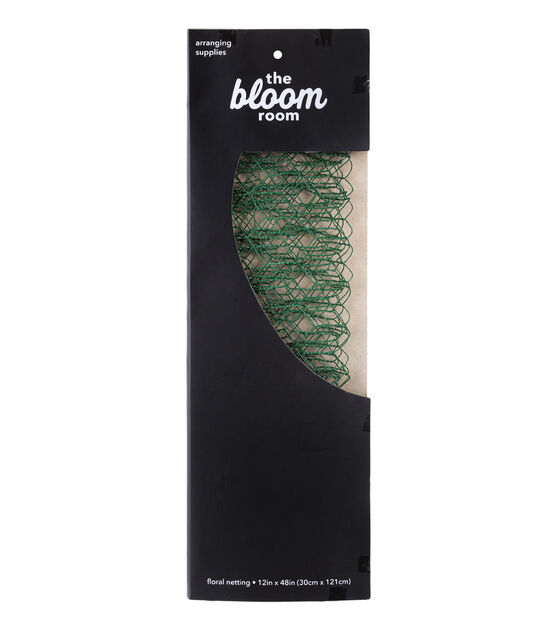 Also be sure to check out my Instagram (@laurapanfilio) for a time laps of how I did it!